enSEmble26 are proud to have been featured in the February 2021 edition of Classical Music Magazine:
LOCAL HEROES: MUSICIANS IN THE COMMUNITY
Stephen Pritchard
TUESDAY, FEBRUARY 2, 2021
Stephen Pritchard speaks to members of enSEmble26 about the value of turning to the local community in lockdown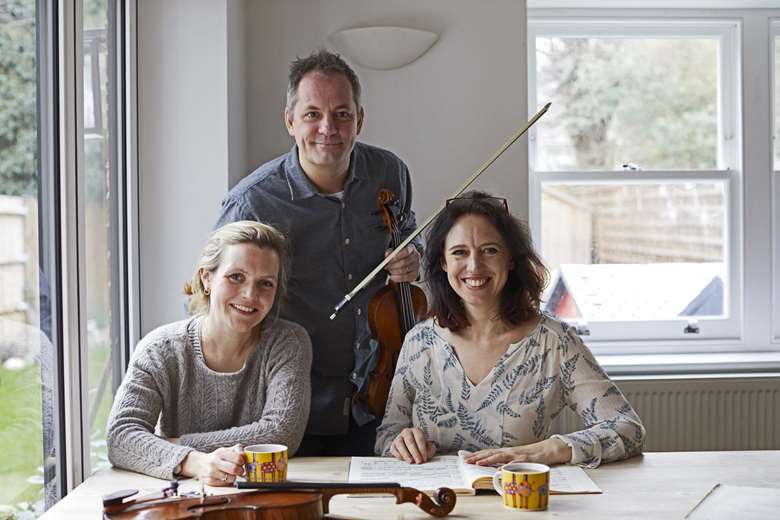 Musicians, wearied by a year of pandemic, might ask themselves if there are any lessons for the future to be learned from Covid-19 lockdowns. One answer might be this: keep it local. As concert halls and opera houses lie empty and foreign tours become a fond memory, some feel that connecting with those in their own neighbourhood offers a positive way to maintain technique and repertoire while making a modest but welcome contribution to shrinking bank balances.
To read the full article in Classical Music Magazine please click here
60 second interview with ensemble 26 for the sydenham society- April 2019
Who and what is enSEmble 26?
We are three friends, Ellie Fagg, Tom Norris and Eleanor Meynell. Ellie and Tom play the violin and I play the piano. We are professional musicians living locally who love to play classical chamber music together. We invite other wonderful instrumentalists to join us as our concerts are always made up of pieces with different combinations of instruments.
How did you meet?
I was at Chetham's School of Music in Manchester with Tom and later in life we kept meeting at film sessions every now and then. We wanted to play chamber music together so we organise a couple of concerts. Meanwhile Tom and Ellie met in the London Symphony Orchestra, got married, had 3 children and moved down to Sydenham which is where I was also living. We all bumped into each other in a local supermarket one day and realised that we shared the same dream of creating a platform for great chamber music within our community in Sydenham. This resulted in us forming enSEmble26 and in the collaboration with Sydenham Arts and the chamber series.
Where do you play?
Our dream is to be able to play all over SE26 and the surrounding areas- really anywhere that's large enough and has a piano. We've done concerts at St Bartholomew's church and at St Christopher's Hospice and this summer in June we are performing a series of concerts at St John the Evangelist church, Upper Norwood where I keep my concert grand Steinway. We're hoping to do smaller ensemble concerts involving just strings in alternative venues such as wine bars and cafes in order to widen our reach into the community.
Do you have to practise a lot?
It depends: I prefer to practice a maximum of 3 hours a day but it's not always possible if I am away on tour or if I'm working at Trinity or Goldsmiths. I can't focus for longer than that even if I have a lot to learn and I find that anyway longer is counter-productive.
Tom and Ellie have to find time to practice around the LSO and their family life! They often practice in between rehearsals or when the children are asleep! As an ensemble we try to get together a few times before the concert so we can really start to know the music together and also so we all get to know each other personally.
Our programmes generally consist of music that we all really love so it is often the case that we have played the pieces before but, as enSEmble26 is always changing in personnel, it's really important for us to spend lots of time together in each formation so that we can all feel comfortable and explore the music in the same way.
Why do you want to do concerts in Sydenham?
We want to bring high quality chamber music to our local community so that music lovers don't necessarily have to travel into London and so that it's easier for prospective music lovers to come and see what it's all about! There are many professional musicians living here who play with the top London orchestras and chamber groups so it's nice for them to play in a local concert! In short, we just want to share our love of great music with our friends and neighbours. We also want to use the concerts as a springboard to reach out to young people and local schools and bring high quality classical music to them too.
What message would you give young people learning or wanting to start an instrument?
That the effort and rigour of regular practising pays off and brings an enormous sense of achievement, fun and self-esteem. It is worth sticking at and persevering. There are other benefits too such as improved concentration, social skills, co-ordination and you get to meet great friends along the wayWhat do you do in your 'normal' lives?
What do you do in your 'normal' lives?
I'm married to a singer, Lawrence Wallington. We both sing together in the Monteverdi Choir and when we are not on tour with them, we love walking in the countryside, watching films, gardening and reading. I also volunteer at St Christopher's community choir where I play for their rehearsals and concerts. Tom is absolutely passionate about photography and film making and also loves spending time in the garden. Ellie is a bit of a full time mum but she also loves writing and being creative.
How do you relax?
I love watching films. I go for a jog around Mayow park a couple of times a week and I am making a patchwork quilt. I love going to concerts with friends and visiting my parents who live in East Sussex. I know that Tom and Ellie love good food and good wine as we have shared many beautiful relaxing evenings together!

enSEmble26_newsletter_No.1